---
Sharon Bellamy James

Sharon has been working in the IT Industry since 1996 starting out as a PC and Printer engineer.
Since 2003 she has been dabbling in all things WebSphere including Application Server, Portal and Commerce, amongst many other IBM/Lotus software offerings.
Sharon worked for an IBM Premier Business Partner for 6 years mentored by one of the UKs leading experts on WebSphere, WebSphere Commerce, WebSphere Portal, TAM and iSeries, Since 2003 she has spent 8 working for IBM business partners and 2 at a large IBM customer before co-founding Cube Soft Consulting.
Now a Social Business Architect working on all things collaborative and IBM/Lotus software based, but specializing in IBM Connections and related IBM collaboration solutions software. Sharon has spoken at NLLUG, UKLUG/ICONUK, Social Connections, BLUG/Engage, MWLUG and IBM Connect / Lotusphere.

In 2011/12,2012/13, 2013/14, 2014/15  Sharon was honored and very proud to have been announced as an IBM Champion for Collaboration Solutions.
2015/16 Champions have been announced and Sharon is a Champion again for a 5th year – Thank you IBM
---
Nathan James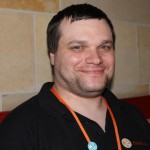 Nathan has always been interested in IT and Web Technologies and has immersed himself into the IT world again.
Nathan is an enthusiastic implementer, site manager and administrator – specializing in e-commerce and guild/gaming sites. He is also an IBM Connections enthusiast completing a number of successful installs on both the windows and linux platforms.
---
We are both part of a great community of like minded technical folks who are happy to collaborate and learn from each others experiences.